Climate festival organized at the Global Platform in Amman
From 27th September to 1st October 2022, the Youth 4 Climate initiative organized its Climate Festival. This amazing week was organized with the incredible efforts of the Youth Global Platform in Jordan and Drabzeen Human Development, in collaboration with ActionAid Arab Region.
The festival included a variety of exciting activities, such as group recycling, painting and coloring, general discussions on climate change issues, planting, and insightful workshops on a range of topics pertaining to climate action in Jordan.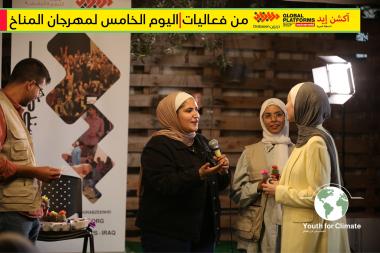 Youth 4 Climate
"Youth 4 Climate" is a youth initiative hosted by the Global Platform under the SPAII program of ActionAid Arab Region. Its objective is to reduce all acts of damage to our planet and climate. Since Youth for Climate made it their mission to raise awareness about this global issue and everything and everyone related to it, it began in Jordan, and wants to move to the MENA region and the entire world!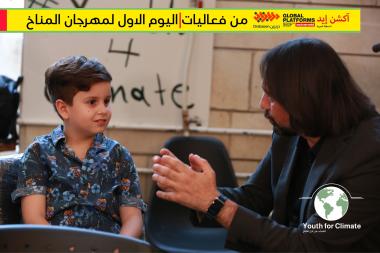 The Festival
More than 100 people of a variety of ages, nationalities, backgrounds, and genders attended the event. They were all there because they share the same interest in climate justice, the importance of young people's role in this issue, and environmental protection.
The event featured a variety of activities, and several subjects were covered:
Eng. Omar Dajani speaking on behalf of the Arab Weather Application presented about how people may respect the environment and have a good impact on it.
Ms. Deema Al-Khrabsheh discussed climate change and Jordan's laws, rules, and concepts.
Dr. Fadi Al Zubaidi amazed the festival attendance about how to use paper for greening our planet.
Ms. Hala S. Murad has discussed young people role in the climate change actions and green entrepreneurship.
Eng. Areen Al-Amayrih spoke about the best ways to make our office eco-friendlier and more efficient.
Ms. Huda Al-Tabarany, a motivational young girl, led several workshops on recycling and the creation of new items that may be used in daily life.
A music band was present before, during, and after the event with the goal of singing about our environment, expressing our message through the art of singing, and bringing attention to climate issues.
The festival benefited from the help of many volunteers who supported "Youth4Climate. They believed in the role of young people in calling attention to community-wide climate justice issues. This was a great initiative from each and every one of them.
Many other nationalities joined us during the festival, including Tunisians, Egyptians, and Syrians. Through the events of the festival, they have shared their ideas, experiences, and thoughts about the climate actions in their countries, and they liked the idea of the festival. Discussions have been held about making a collaboration between the Youth4Climate initiative and their initiatives.
"I really enjoyed every moment in this event, and I have experienced a new thing about recycling and of course, I will apply this in my country inside my organization"
Kholoud, fromTunis
"I have learned new skills, such as organizing, planning, and teamwork through our preparation for the climate festival and this has a huge impact on my personal and practical level"
Ishaq Hmood, from Youth4Climate