March 2022 Newsletter - Celebrating Women's Month
The 2022 theme is "Women Providing Healing, Promoting Hope."
This theme is both a tribute to the ceaseless work of caregivers and frontline workers during this ongoing pandemic and also a recognition of the thousands of ways that women of all cultures have provided both healing and hope throughout history.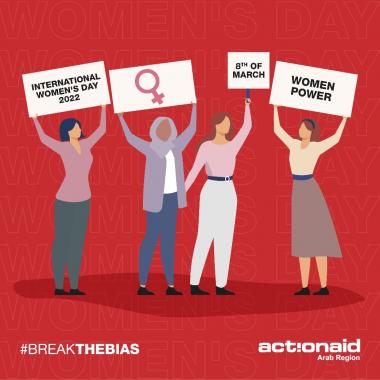 International Women's Day
To celebrate International Women's Day, an exhibition titled "Look at me, hear me" was organized by ActionAid Greece in Athens, featuring riveting portraits of women from ActionAid centers around the world telling their stories, taken by creative photographer Kosmas Koumianos.
In collaboration with Action Aid Arab Region, Koumianos photographed women beneficiaries of the organization's projects in Lebanon, shedding light on those who overcame obstacles to build a better future.
Women's History Month
AAAR always works on empowering women especially in the most vulnerable communities. Beneficiaries from the Project "Our Heroes of Beirut" share their stories:
Fatima is a 30-year-old Syrian woman who took part in Wpags, attended training about leadership, early marriage, protection, and advocacy campaigns against bullying.
"After my arrival in Lebanon because of the Syrian war, Action Aid taught me how to be successful and build for my future. Action Aid replaced the family that I had lost; the team held my hand and helped me face life, make my own decisions, stand up to outdated traditions and support myself".
Ghofran started with Action Aid as a participant in many projects, and she got a grant in social entrepreneurship project so she was able to start her own business. Now she is a safe space assistant in Jeb Janine Center.
Roula is a volunteer at Action Aid: "Action Aid is a safe space for us. It is wonderful to work there along with all the men and women we got to know. We attended training sessions on economic empowerment, referral system, and accountability, everything was amazing and all the training sessions I attended helped me improve my personality."
Eliane Chahine 
Eliane works as a nurse at the Middle East Hospital. She received 8 emotional distress sessions conducted by Dawaer along with other nurses that were either affected directly by the blast or supported as frontliners in providing medical assistance for affected people.
 

The story of Tasnim Al-Batanyeh
The story of "Tasnim Al-Batayneh" is the third story of the "Change Makers" series, the second part, that highlights the stories of activists in disability cases in partnership with Liwan Space. Tasnim's experience and her transformation of disability into strength and energy is a story worthy of contemplation.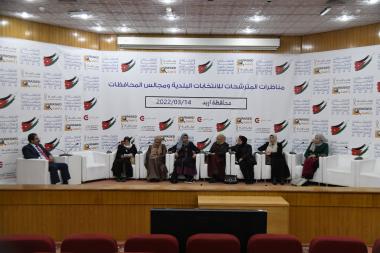 Supporting Women in Politics
AAAR partnered with Al-Hayat Center - Rased to conduct a debate between the female candidates for membership of the municipal councils and the governorate councils in Irbid governorate, and organized several activities to support women in the political field.