Visit to the newly renovated Women Safe Space in Mafraq
On 19 October, ActionAid Arab Region visited one of its partners in Mafraq: the newly renovated Women Safe Space, in the framework of the SPA II programme in Jordan.
What is a Women Safe Space?
A safe space is a space where women feel physically and emotionally safe, with the freedom to express themselves. In safe spaces, women can implement women-led community-based protection mechanisms to prevent and respond to violence, exploitation, and abuse.
The Mafraq Safe Space
The renovation of the space began in 2022 and was achieved during the summer. The new Women Safe Space includes two meeting rooms, with a total capacity of 50 persons, a child-care room, two offices for the staff, and one kitchen.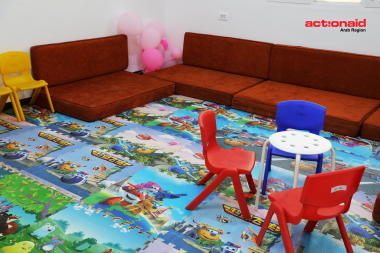 Activities
In this Women Safe Space, activities such as trainings, workshops, dialogues, and discussions are held on a weekly basis, by women, for women. In average, half of the women coming are represented by Syrians, and the other half by Jordanians.
The child-care room is particularly important, as it allows women to come with their children in the Safe Space during the activities.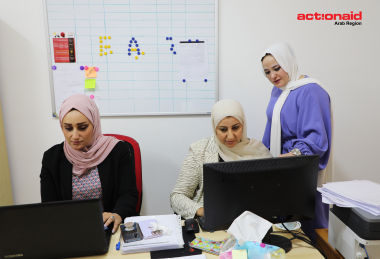 A partner in the ActionAid's SPA II Programme
The new space will host activities linked to the SPA II Programme (Link to the SPA II Article), as part of its women's rights component. In Jordan, the Housewife Association (HSF) is ActionAid's women-led partner leading the Women Safe Space in Zarqa and Mafraq for the SPA II Programme.